And after the Vienna Philharmonic?
An own violin making workshop.
The Vienna Philharmonic's famous string sound is a hallmark of the orchestra. This is maintained by the world's only permanently employed luthier who keeps an eye on all string instruments and accompanies the orchestra on its tours. In his place, as a young luthier, I accompanied the Vienna Philharmonic Orchestra around the world and took care of their extraordinary instruments - a great honour and a wonderful challenge. This was only one stop on my professional path of life and I now have my own instrument making workshop: at Blumenstraße 7 in Hanover. The following are some of the stages in my professional life: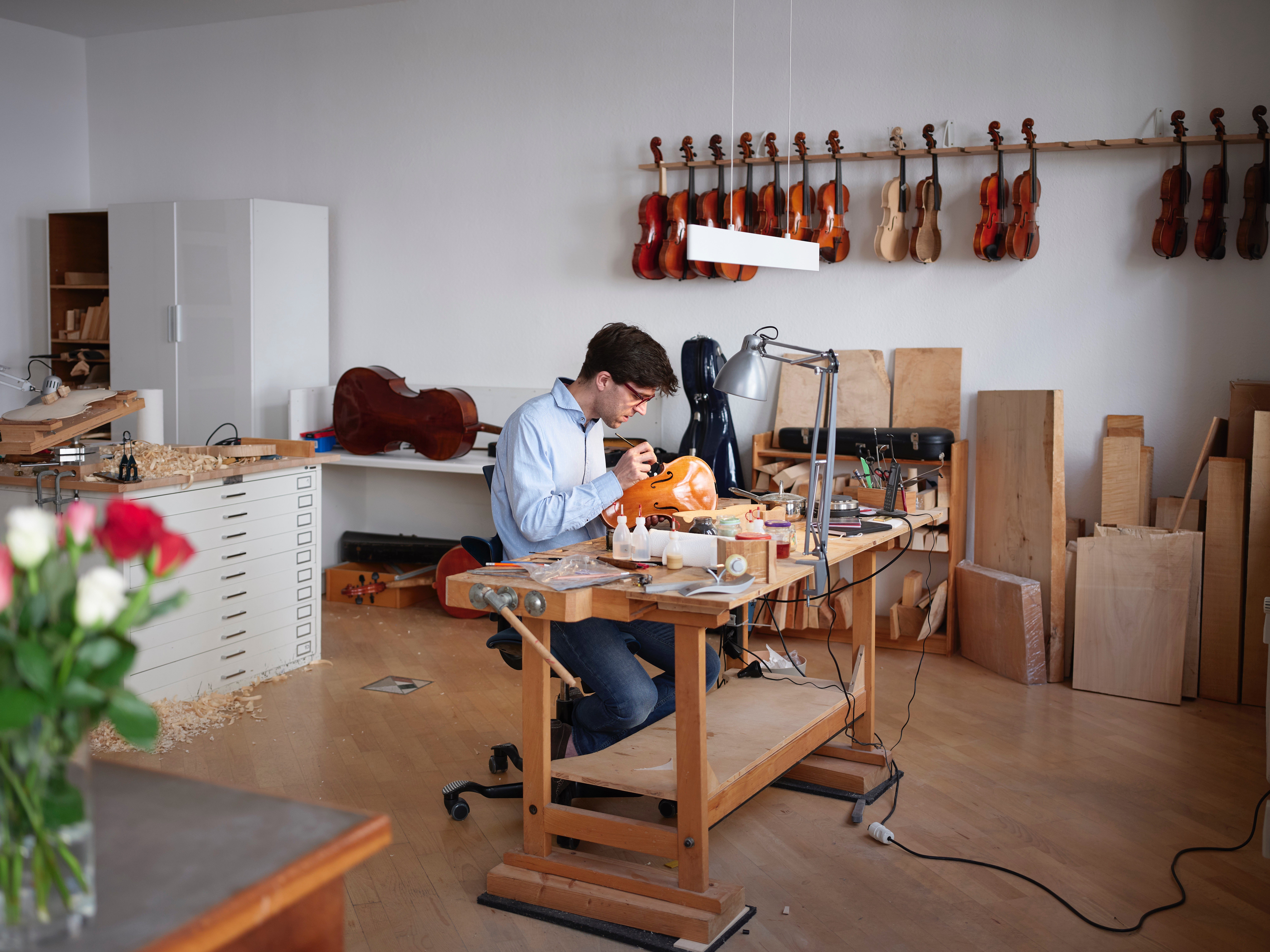 I completed my training as an instrument maker at the world-renowned Staatliche Berufsfachschule für Geigenbau in Mittenwald with Ulrich Hinsberger, a multiple award-winning luthier and an expert in our trade.
In the Bogenbauwerkstatt Markus Wörz in Munich, I perfected my knowledge of bow maintenance.


The craft of restoration was the main focus of my work in the Violin Making Studio Ramsaier in the Vienna Musikverein. To this day, I regularly travel throughout Europe to take part in advanced training courses with internationally renowned restorers of string instruments. I have attended seminars, most recently including ones at West Dean College in England and a restoration course with Jean-Jacques Fasnacht in Switzerland, and I am in frequent exchange with leading specialists.


During my time in Austria, I looked after and repaired the string instruments of the Vienna Philharmonic Orchestra and was responsible, among other things, for their sophisticated sound adjustments. After a short time of getting to know the orchestra, I accompanied them on their tours.


Over a period of four years I deepened my knowledge in new instrument making at Geigenbau Erichson. In addition to my own models of violins, violas and cellos, I made many copies based on classical Italian models such as Stradivari, Guadagnini and Montagnana.


In 2019 I opened my workshop, the Geigenbauwerkstatt Lieberwirth, in Hanover. Here I focus on the new construction of high-quality string instruments, restoration, bow repairs and sound adjustments.